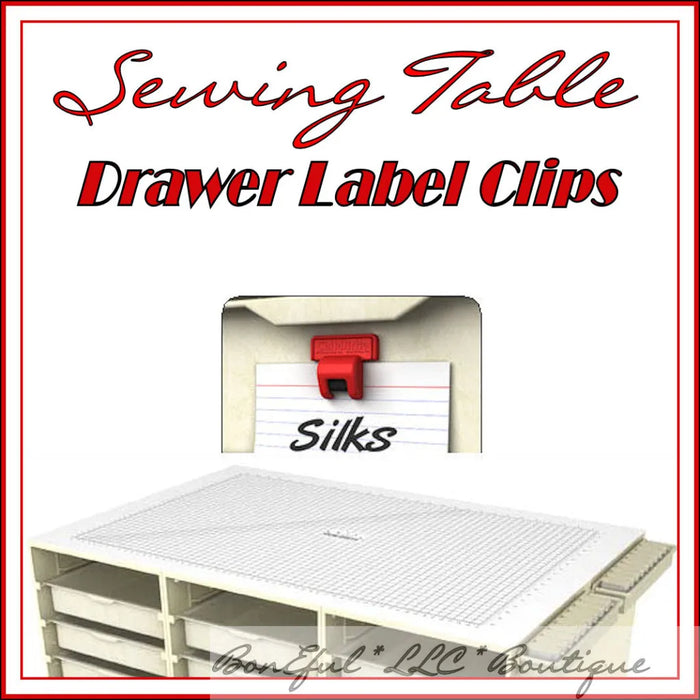 The Drawer Label Clips Sewing CRAFT Room Table Organizer
Original price
$24.00
-
Original price
$24.00
At this time, we are covering shipping within the USA.
Drawer "Label Clips" for Drawers
This DOES include the SET OF 10 Organizer Clips for Drawer end as shown.
"Unique Sturdy & Durable Storage worth it's Table space!"
Transform your workspace into something workable!
Set of 10 Clips gives you great flexibility! Organize & Label the Drawers.
(Red & Blue) Fits Nice right in the center of the Drawer Front.
Stick this handy Hanger Anywhere. Available with either an Adhesive of Magnetic Back. Use on each 
Mega Tray Front to hold a card Label to Identify Contents at a glance. Push Card up to Insert, Slide Sideways to remove. 
Adjustable Note Clips/Labels let you compartmentalize small items within the drawer.
Finally, you can organize it all! This sewing/craft table should give back the floor area that is uses in storage space. For the storage of fabric, patterns, threads, notions or other crafting supplies... scrap booking, stamping, etc... and a very generous work surface at a comfortable 36" working height! Wheels are awesome, they roll smooth when you need to roll this table away & lock tight when you are working on the most detailed projects. Ships via truck, please call me for further questions.
My Fabric Studio, Sewing & Photography Space:
I know all about the LOVE of Fabrics, designing, crafting & embroidery work. I enjoy bringing you the best options of storage spaces & the most unique treasured fabrics & finds!  
I carry 
thousands of quality fabrics in my store.  I aim to please & encourage you to keep returning. There are always new fabrics being listed. Please ADD ME to your favorites & you will be the first to find out about my new listings & and sales as soon as they start!
Thank You, 
Bonnie & Team BonEful LLC
Availability:
Only 10 left!